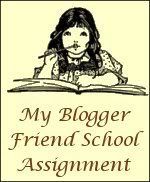 Memory Verse: Psalms 13:6 NIV
I will sing to the Lord, for He has been good to me.
Please try to learn our memory verse this week. We will be sharing a new verse every week and hope that you will store them in your hearts and find a special joy in His words.
Intro: M'm M'm Good (Campbell's Soup)
The fall is such a wonderful time of year. The beautiful foliage and cool, crisp morning air is such a wonderful change from the hot summer. I also love the M'm M'm good smell of fall cooking and baking. The wonderful fall veggies, fruits and Thanksgiving foods.
Assignment: Post your favorite fall recipe/recipes to share. I love trying new recipes, do you? It can be baking, main dishes, veggies, dessert or anything else you can think of. There are no limits. Mmmmmm..I can't wait to take a look at some of those recipes.
I have had this recipe for a few years, It is very good and yummy and we love to have it in the fall and winter.
Wendy's Chili
1 pound of ground beef
1-14.5 oz can tomatoe sauce
1-14.5 oz can kidney beans (with liquid)

1-14.5 oz can pinto beans (with liquid)
1/2 cup diced onion
1/4 cup diced green chilies
1/4 cup diced celery
2 medium tomatoes, chopped
1 teaspoon cumin powder
2 tablespoons chili powder
1 teaspoon black pepper
1 cup water
1. Brown the ground beef in a skillet over medium heat, drain off the fat.
2. Using a fork , crumble the cooked beef into pea-size pieces.
3. In a large pot, combine the beef plus all the remaining ingredients
and bring to a simmer over low heat. Cook, stirring every 15 minutes
for 2-3 hours ( I usually cook it in the crockpot on low all day)